Vision Properties team goes into bat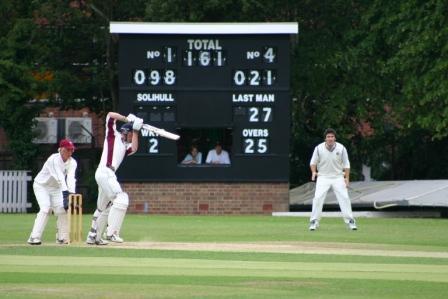 We're proud to be the sponsor of the inaugural Old Boys cricket match between Solihull School and Warwick School. Our director, Justin, a former pupil at Solihull School, is a keen cricketer and will be playing in the match of 45 overs, which will take place on Sunday 5 June at 12.00 at Solihull School
The match will pit former pupils of both schools against one another, rekindling a long-standing rivalry between the teams in a friendly match where the focus will be on fun and fundraising.
This year we've committed to help a local family raise funds for an important cause. Our good friend, Dan Grigg, who was also a pupil at Solihull School, is aiming to run 996 miles this year to raise funds to tackle Type 1 Diabetes. Dan's young son, Harry, has Type 1 Diabetes (T1D), a serious condition where your blood glucose (sugar) level is too high because your body can't make a hormone called insulin.
We'll be fundraising at the match in a bid to help Dan's efforts to support the Diabetes charity, JDRF. Any funds raised will be matched by Vision and added to Dan's total raised to date, which currently stands at a very impressive £3,938.
Justin says: "We're delighted to be the sponsor of this good-natured match, and everyone is welcome to come along and cheer their team to help us raise vital funds to tackle Type 1 Diabetes. I've put on my whites to play against Warwick School many times over the years and I know everyone is looking forward to reliving some of the on-field battles we had during our school days, but this time is different because whatever the outcome, it will be win for us if we can contribute to Dan's fundraising challenge."